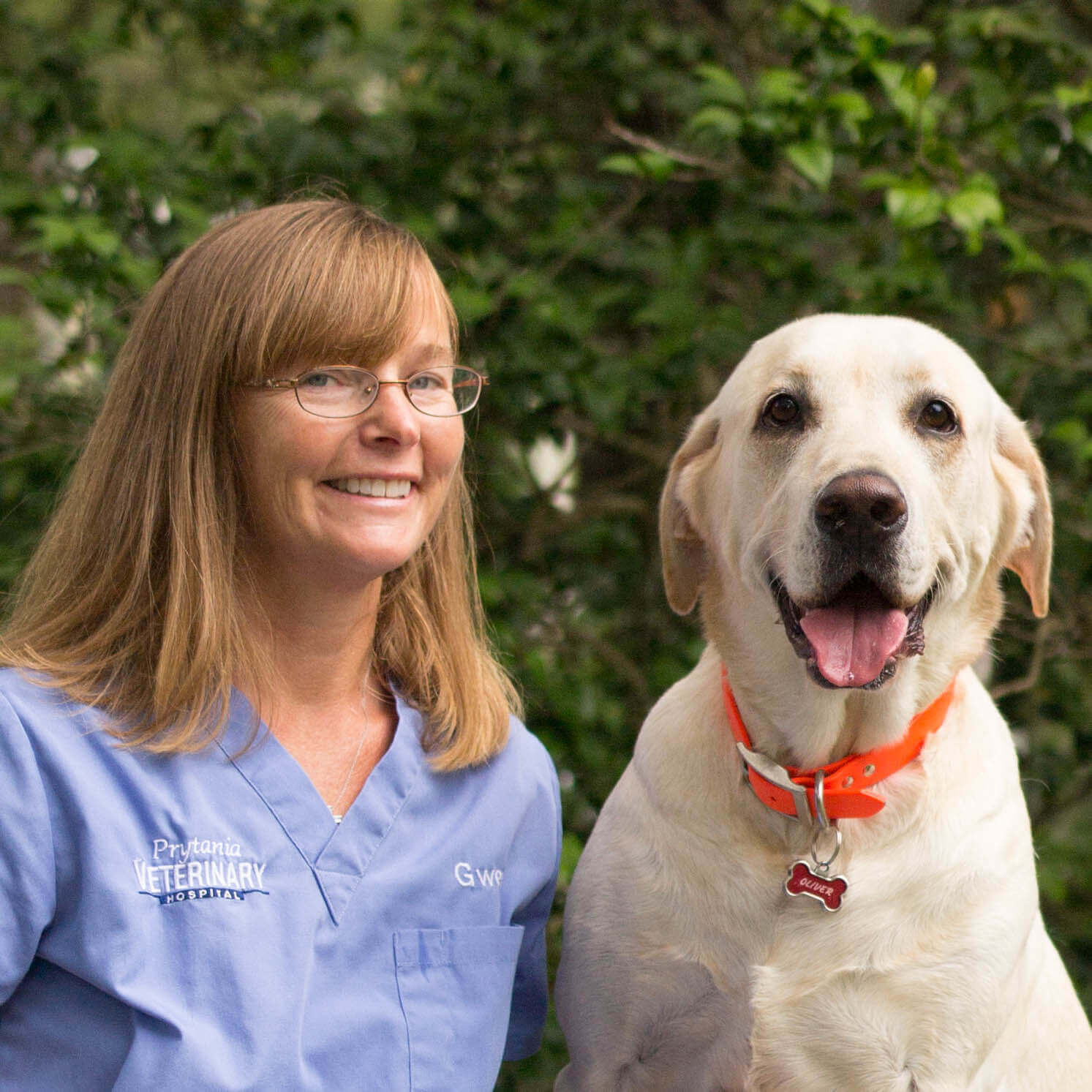 Gwen
Practice Manager – Since 1992
Gwen has been with Prytania Vet since we opened in 1992 and has worked in the veterinary field since she was 13 years old. She's worked every position throughout the hospital from kennel to reception and has been the practice manager since 1996. She graduated from UNO with a biology degree. She enjoys working with an amazing group of people and hearing her co-workers singing throughout the hospital and talking to our patients. She also appreciates that our entire staff works tirelessly to offer the best care possible and treats every pet as a part of our family. Gwen has three dogs – Toby, a Jack Russell Terrier that loves to swim, Oliver, a yellow lab that loves to retrieve anything from the bottom of the pool, and Hutch, a corgi that follows Gwen around begging for treats and cuddles, a green cheek conure named Chico, and a lizard-hunting cat named Noskers. She loves fishing, cycling, and kayaking with her husband, Matt, and two boys, Josh and William. She also enjoys photography and reading.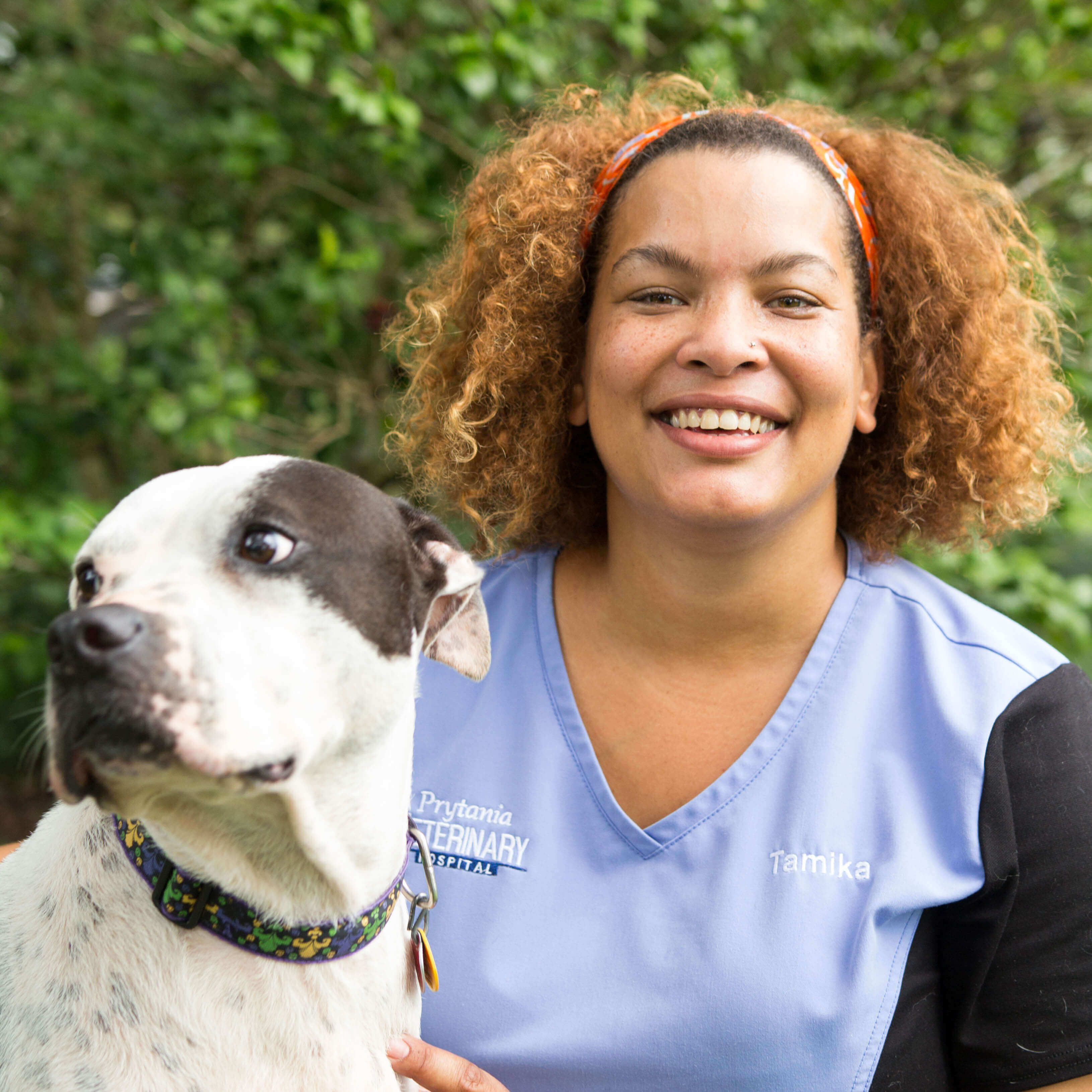 Tamika
Kennel Manager- Since 2002
Tamika was born in New Orleans during Hurricane Hugo in 1980 and has lived in North Dakota and Mississippi. Tamika was in the Army JROTC for five years and served on active duty in the Air force for two years. She has been working as an advocate for animals for over twenty years. Tamika trains our new kennel technicians and has worked in many positions throughout the hospital. She is always willing to help out – from the front to the back of the building. Tamika has an amazing ability to recognize almost all of our patients as soon as they walk through the door. Whenever someone brings in stray pets, we always count on Tamika to identify them so we can reunite them with their parents. Tamika has a big family, including a twin sister, and loves spending time with all of them. She also has two dogs, Elvis Presley and Magnum Holstein, but she has often opened her home to pets in need of a little TLC before finding their forever home. You can always hear Tamika sharing her beautiful, soulful voice with the dogs and cats in the kennel.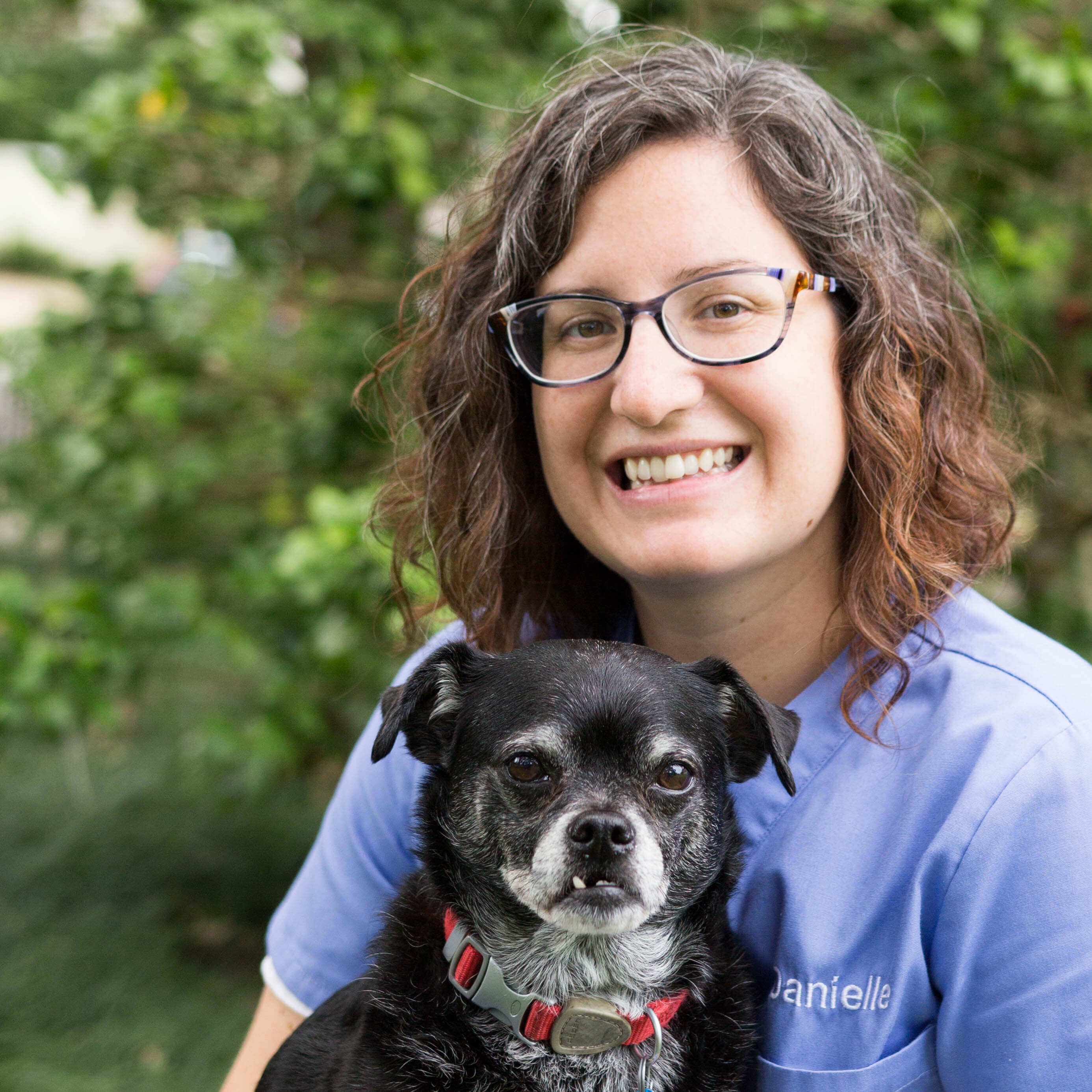 Danielle
Public Relations Manager, Veterinary Nurse – Since 2006
Danielle was born and raised in New Orleans. After graduating from Loyola University, she traveled through Europe for two months before joining our team. She also manages our website, social media, and client education materials. She is very detail-oriented and loves learning on the job and educating our clients and staff. She keeps track of many details with patient records and patient care. Dani organizes donations for local pet organizations and can often be seen at local pet fests representing Prytania Vet. She also is the queen of International Health Certificates. She assists all of our clients through the intricate process and pages of paperwork required to bring their beloved pets to other countries. Dani is certified to teach English as a Second Language and plans to continue traveling around the world. She enjoys yoga and vegetarian cooking. Dani has a handsome hound dog mix named Bienville, a pug mix named Frank, and a feisty tortoiseshell cat named Tater Tot. She also is our go-to foster mom, she opens her home to any pet in need and brings them back to health and finds them forever families. Her favorite things about working here is getting to hug on big dogs and letting kitties sleep in her lap while she does paperwork.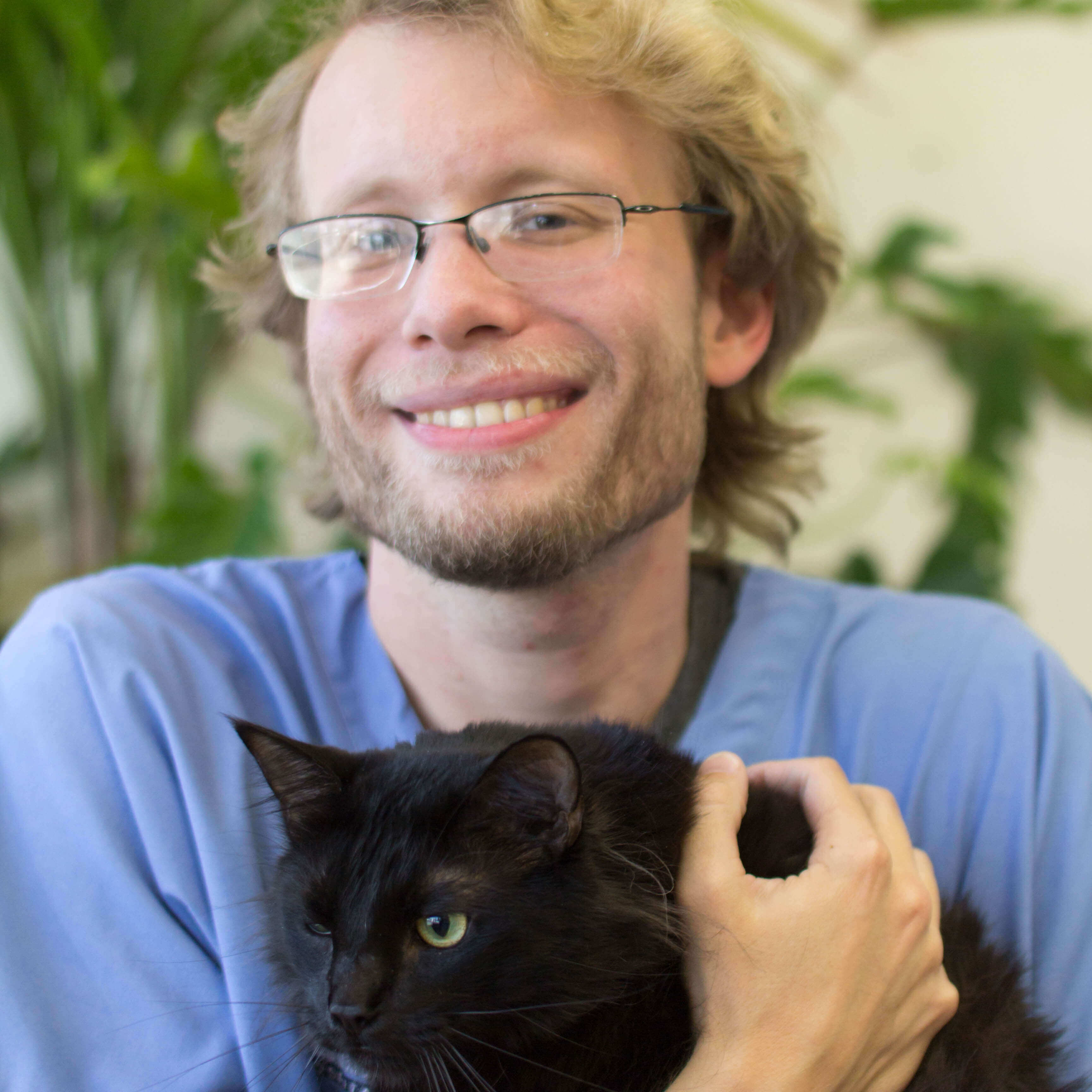 Daniel
Office Manager – Since 2007
Daniel is our office manager. He graduated from Tulane University and Benjamin Franklin High School and has completed the Tulane Teaching Preparation and Certification Program before deciding that his calling was helping our clients and patients. His favorite part of the job is being able to meet and help educate all of our clients as well as meeting the wide variety of pets that come through the hospital. Daniel is the proud owner of two kitties from Zeus' Rescues, Murdock, aka Lil' Wheezy, and Ziggy. He adopts older kitties that have a harder time being adopted. In his free time, Daniel enjoys reading and writing, playing music, and going to shows around town. He was born to English parents in Tuebingen in Southern Germany, but settled in New Orleans in 1991.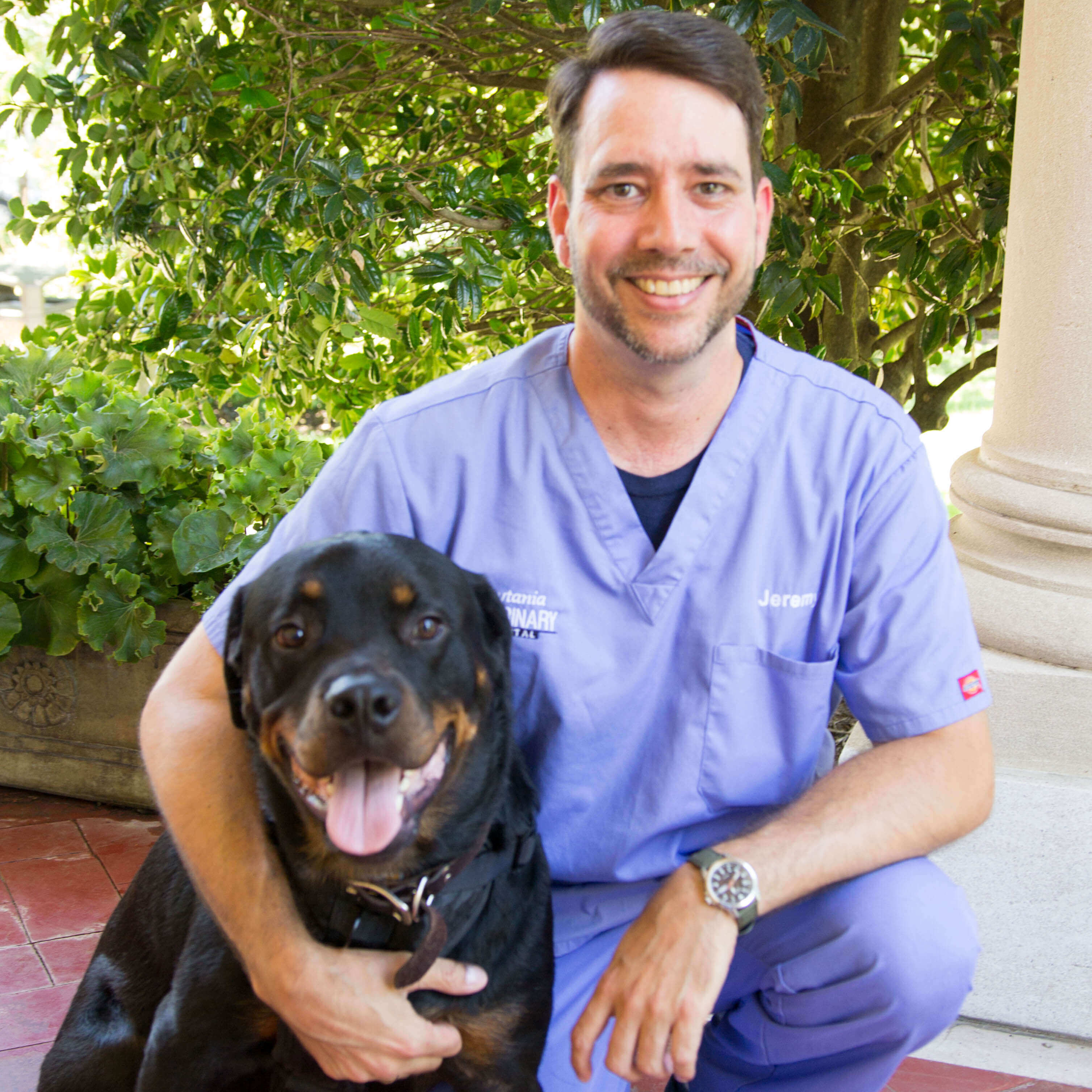 Jeremy
Treatment/ICU Supervisor and Director of Training – Since 1997
Jeremy joined the PVH team in 1997 working in the kennel before making his way to the ICU/ treatment room. Since then, he has been fortunate enough to have gained immeasurable experience working in general practice, at LSU Veterinary School in Baton Rouge, and as a hospital manager for a large specialty and emergency veterinary hospital. He obtained his undergraduate degree in Business Administration from UNO in 2014 and was excited to rejoin his home team at PVH in 2017 as Treatment/ICU Supervisor and Director of Training. His knowledge, attention to detail, and calm demeanor amidst the controlled chaos that can be veterinary medicine are vital to keeping the treatment room running smoothly. His ability to read subtle physical and behavioral changes in his patients, allows him to recognize changing medical needs as they occur, as well as helping him to connect with even the most scared or sick patients. He is a strong believer in the role that empathy plays in the healing process, and spends as much time as possible with ill or frightened patients comforting them and trying to make sure that they feel safe and loved. As an animal lover himself, Jeremy knows the importance of connecting with clients and patients, and strives to treat all pets like they are his own. Jeremy is married to Colette Seale (whom he met at PVH), and is the proud father of two sons: Jacob and Benjamin. He has two dogs- a Doberman/ Bull Mastiff mix named Rosie, and a Rottweiler named Homer. He also has four cats — Macaroni, Cheese, Weasel, and Punkin, a bearded dragon named Merlin, and multiple fish tanks. He is a guitar player/singer/songwriter, and loves snorkeling, camping and hiking with the family.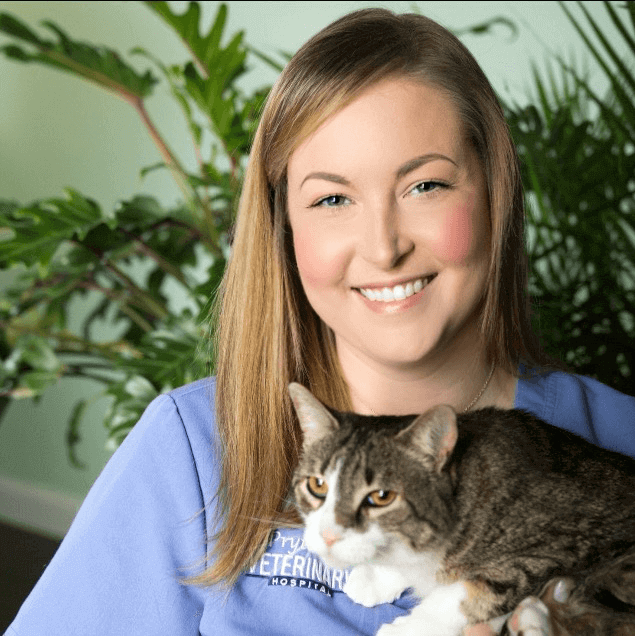 Catherine
Client Care Specialist – Since 2014
Catherine was born and raised in Metairie, Louisiana. She has held a variety of jobs, but her love for animals brought her to Prytania Vet. She grew up with a lots of animals such as cats, dogs, hamsters, hermit crabs, and even a duck named Ducky. She loves working with animals and spending her lunch breaks playing with the kitties and our office cat, Deuce. She is very outgoing and eager to learn and grow with her PVH family. Catherine is very close with her parents and loves going to the movies with her dad. Her best friend, Coco, a miniature dachshund with whom she grew up with, passed away in March of 2013 at the age of 16. Luckily, Catherine has her Allie cat, who was found as a newborn kitten in an alley a week before Katrina, to keep her company. They have been inseparable ever since.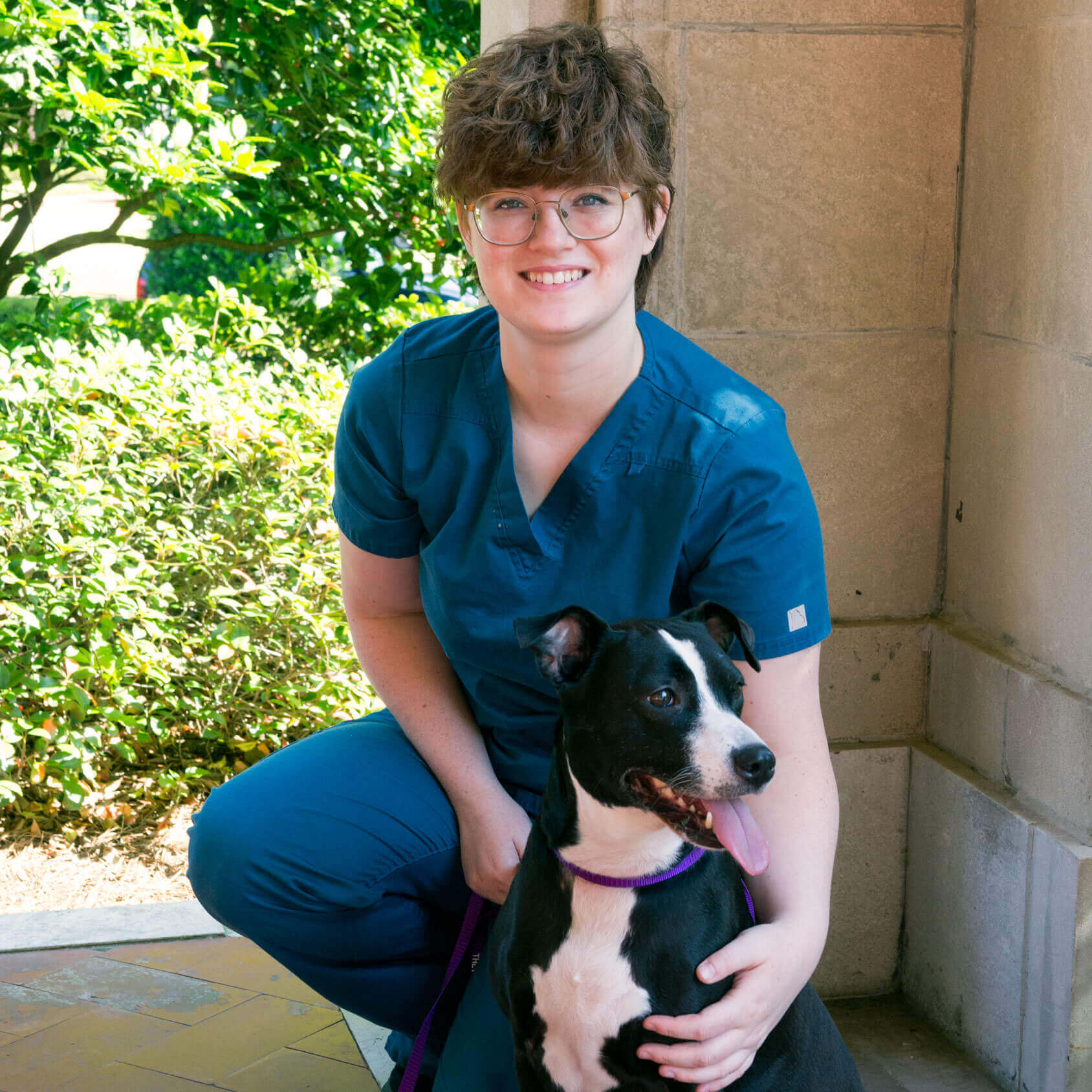 Ericka
Client Care Specialist – Since 2018
Ericka is a South Louisiana native who grew up in Bourg, LA, about an hour southwest of New Orleans. She has always had a fascination with animals, and her curious mind is always getting to learn something new at PVH. She graduated from South Terrebonne High School in Bourg and Southeastern Louisiana University in Hammond where she received a bachelor's degree in Visual Art. When she's not caring for PVH's clients and patients, Ericka is cooking, binge-watching Netflix, doodling, or spending time with her perfect pitty pup, Azalea. Azalea is the Queen of Slobber, Master of Kisses, Leader of Naps and Chief of Mischief.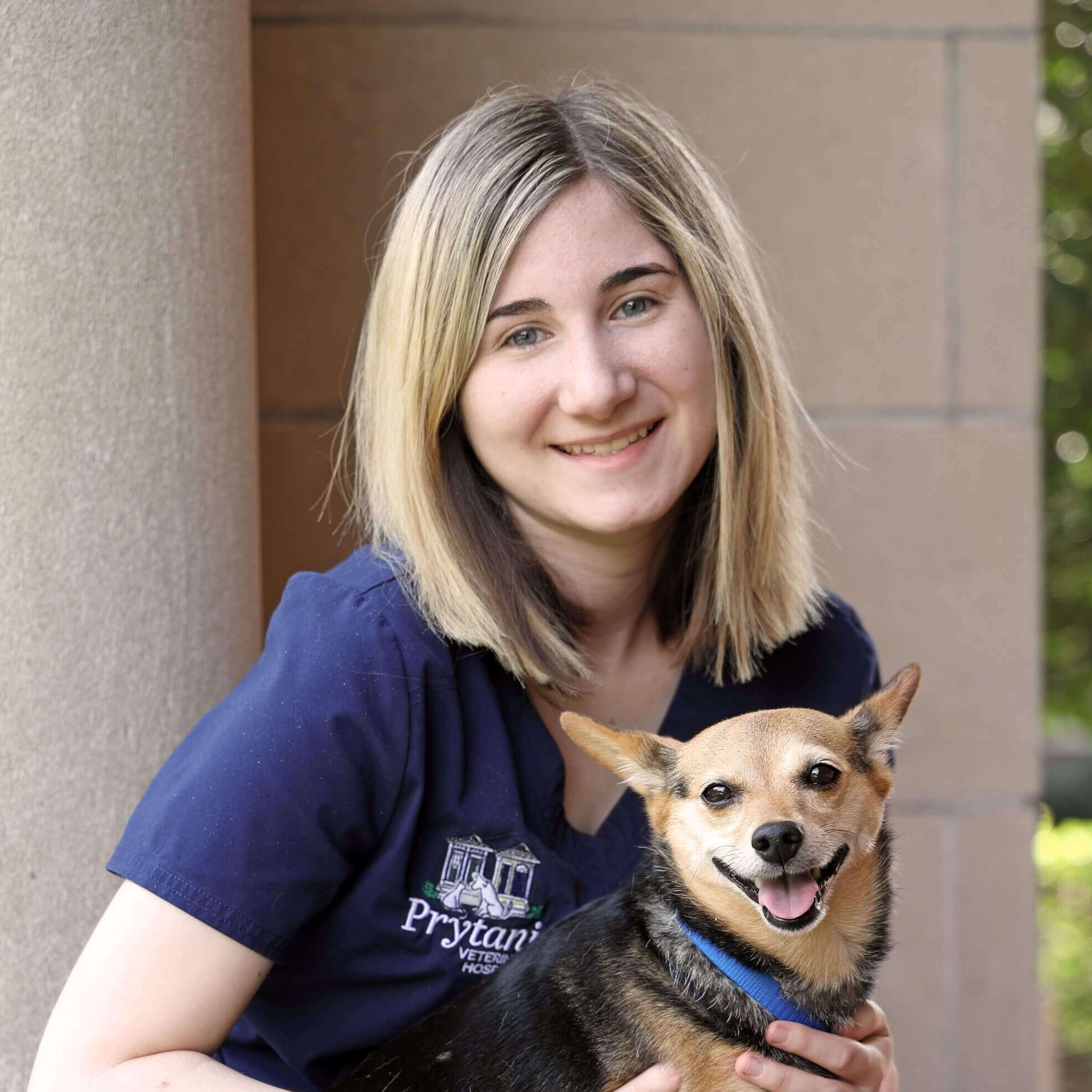 Sara
Client Care Specialist – Since 2019
Sara joined Prytania Vet after graduating from the University of New Orleans with a Bachelor's in Biological Sciences. She was born and raised in Westwego. In high school, she volunteered at Plaquemines Animal Welfare Society where she helped care for the animals. She loves working at Prytania Vet because it is one big family that cares for everybody's pets. She feels like the atmosphere is friendly, positive, and filled with motivated people. She is constantly learning new things. Sara doesn't currently have any pets, but hopes to in the future. She has fond memories of her childhood pets: a Cocker Spaniel named Lady, a Chihuahua named Angel, and two hamsters. In her free time, she enjoys reading and painting. Sara also loves camping with friends and family and pushes herself to travel to new places.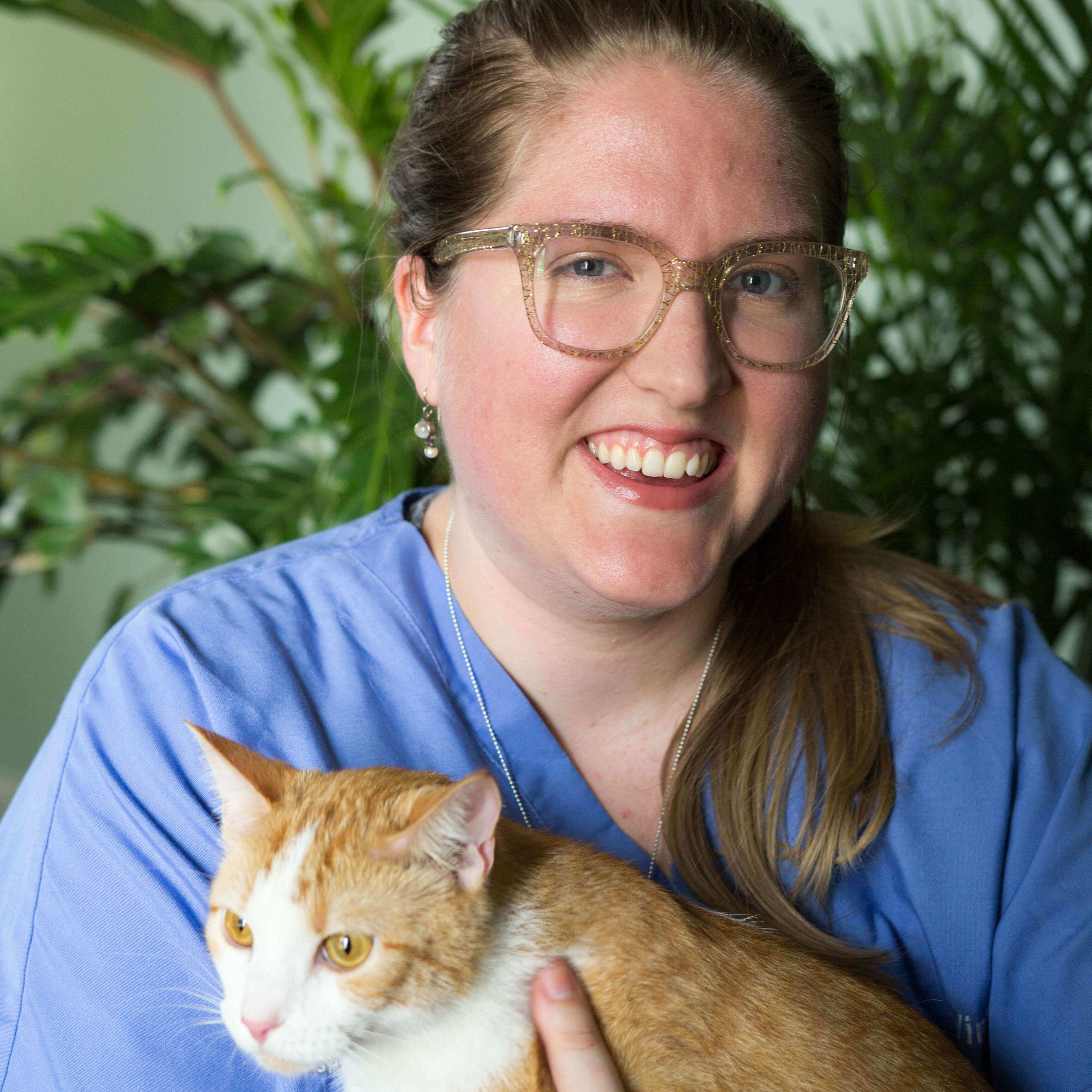 Virginia
Veterinary Nurse and Safety Officer- Since 2011
Virginia attended the Louisiana School for Math, Sciences and the Arts in Natchitoches before graduating with a Biology degree from Lewis & Clark College in Portland, Oregon. She loves biology and chemistry and enjoys being able to apply her knowledge in a practical setting. She started in the kennel and still enjoys her after-hours shifts walking dogs. Now her responsibilities include helping doctors in rooms and surgery in addition to being the safety manager for the clinic. You will often find Virginia in our cat room making sure all of our kitties are as comfortable as possible with fluffy bedding, toys, and even a little catnip. Virginia has three cats, Merlin, Winifred Sanderson, and XanadU. She is a doula, amateur fermentation geek, and budding herbalist.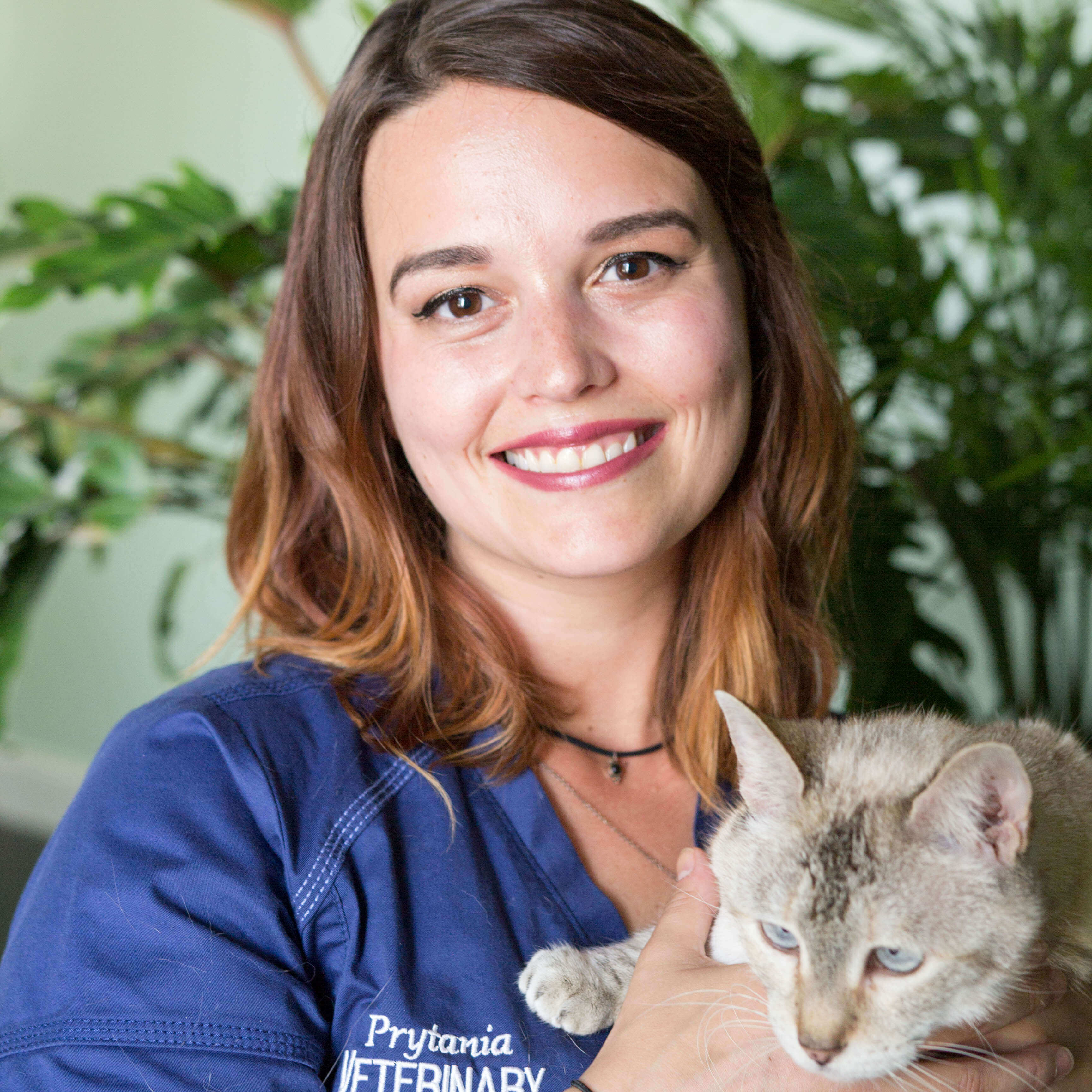 Taylor
Client Care Specialist / Veterinary Nurse – Since 2015
Taylor is a NOLA native. She went to Mount Carmel Academy – go Pink Panthers!. She then went on to gain a degree in Communications from Louisiana State University. During college and before working at PVH, you could catch Taylor writing and reporting for publications like The Daily Reveille and Where Y'at Magazine. She also worked in radio as a DJ and radio reporter. At Prytania, she works as both a kennel assistant and veterinary nurse. Taylor enjoys spending time with both cats and dogs, but she's especially fond of kittens! Her favorite part of working here is thinking of new nicknames for pets and getting puppy kisses. Taylor is the proud mother of a black kitty named Jet. He's rambunctious, a little mischievous and loves to cuddle. On her days off work, Taylor enjoys drawing/painting, binge watching Netflix, listening to music and going to the park.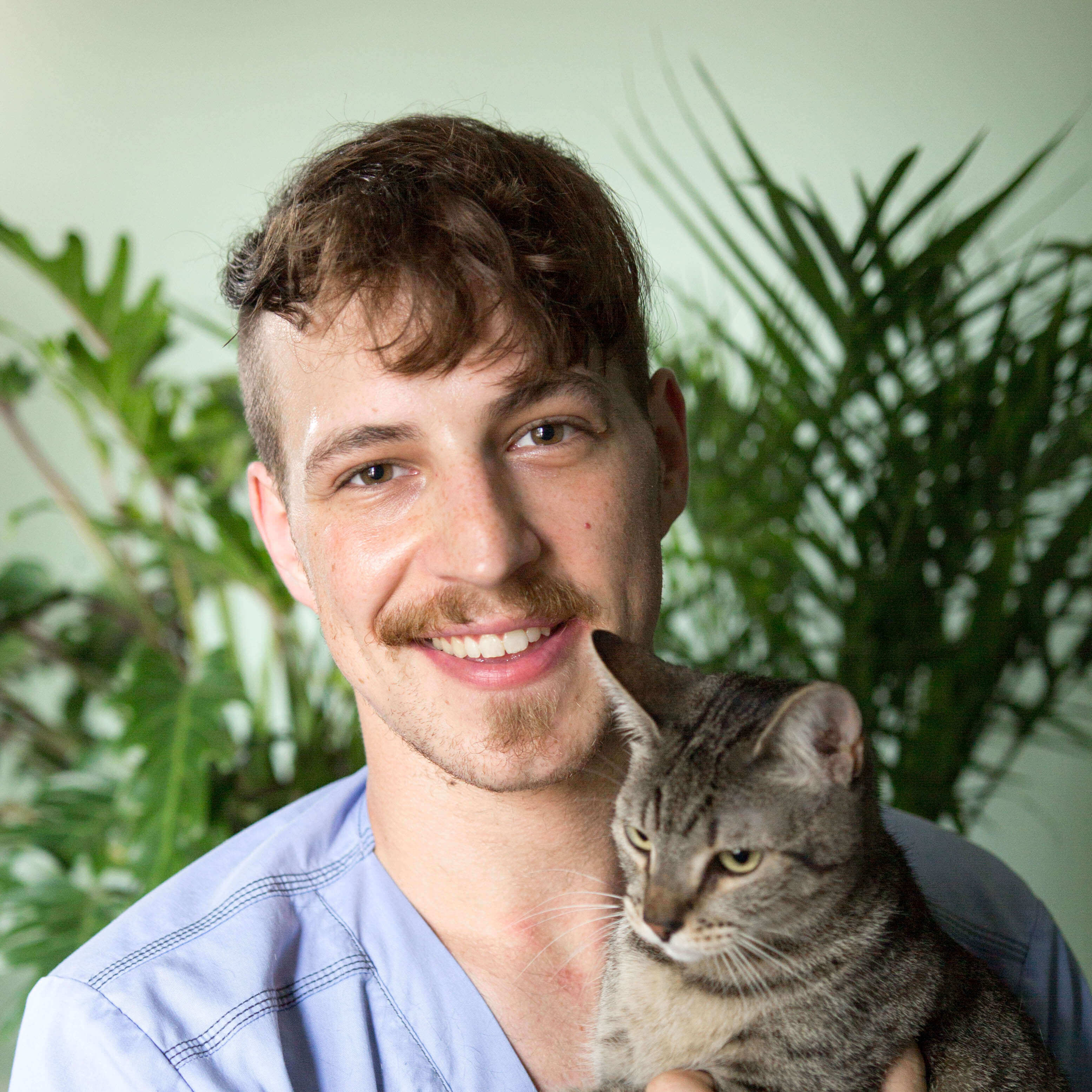 Derek
Veterinary Nurse – Since 2016
Derek has been in the veterinary field since 2010. He grew up in the North Shore of Massachusetts but transplanted to New Orleans in 2016. Since childhood, he has always had a love for animals that thrust him into the veterinary field after high school. Derek is currently working on prerequisites for Veterinary School and has plans to attended LSU in the near future. You may find him working during the daytime practice or at night working with the emergency service. If he's not at the clinic you can catch him hanging out with his two cat daughters, Luna and Cosma.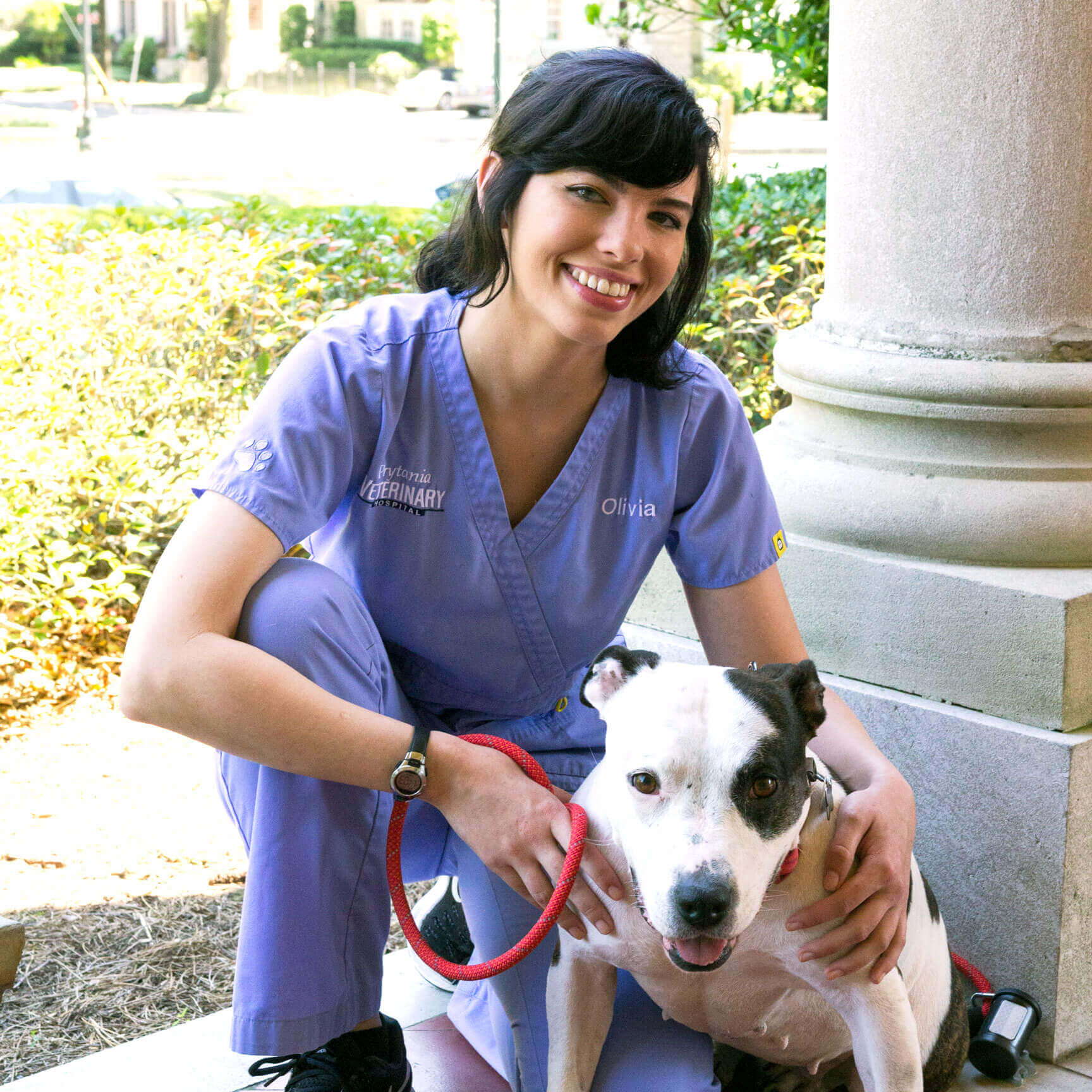 Olivia
Veterinary Nurse / Dental Specialist – Since 2017
Olivia moved to New Orleans in 2011 from Chicago. She attended Loyola University, majoring in Political Science with a minor in Arabic and Middle East Peace Studies. She spent time in Morocco before returning to what she had always loved: caring for animals. She began working as a veterinary technician in 2013, and joined the Prytania team in August 2017. She has three dogs: two Long-Haired Chihuahuas named Iggy and Bowie, and a Pitbull named Harper. When she isn't working, she can be found cooking, browsing record stores or supporting her favorite basketball teams.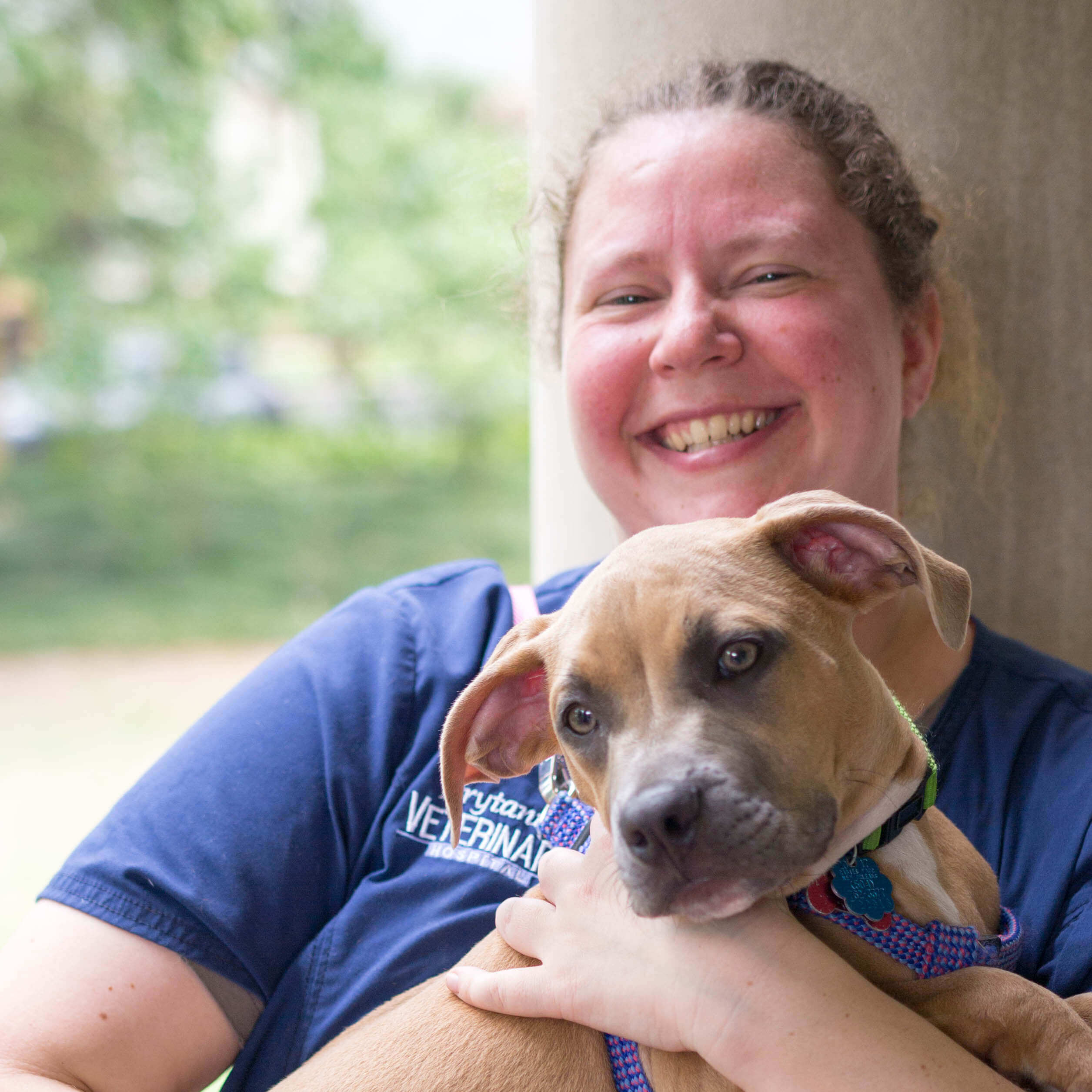 Kate
Dental Specialist – Since 2008
Kate had five years of vet experience before joining us in 2008. She is meticulous and careful, and is a perfectionist when it comes to keeping our patients' teeth healthy! She loves seeing all of the wonderful puppies and kitties that come to visit our practice. Kate was born and raised in Harvard, Massachusetts but is a wanderer at heart and has lived in Boston, Hawaii, Washington, Vermont, North Carolina, and California. She feels at home in New Orleans though, a city which she thinks complements her perfectly. You will always find her in an awe-inspiring costume for Mardi Gras, Halloween, and kickball prom. She also enjoys live music, both local and national artists. She has an adorable mixed breed puppy, named Jelly Belly.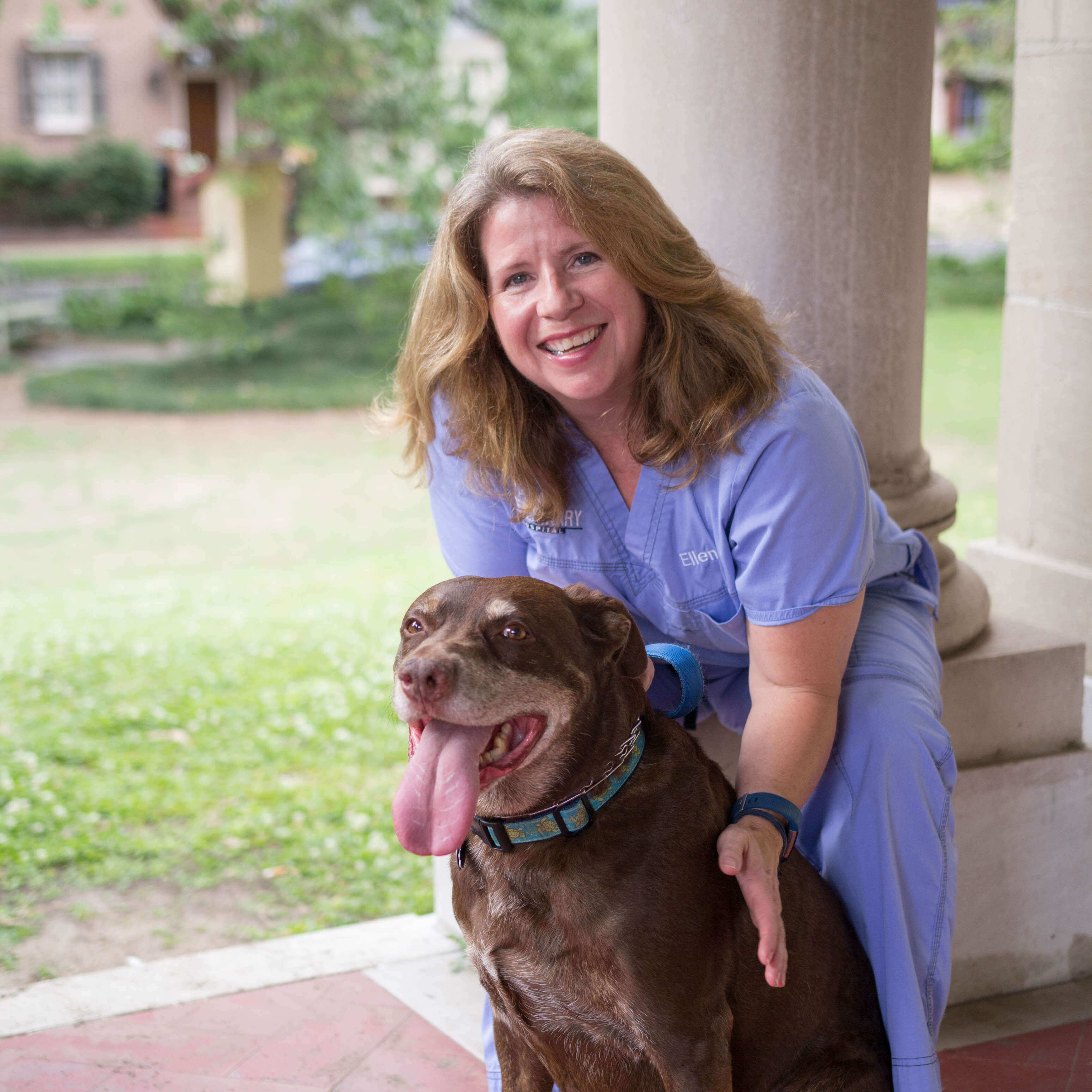 Ellen
Treatment/ ICU Nurse – Since 1999
Ellen has New England roots and was born in Pittsburgh. She knows the workings of the hospital inside and out and is amazing at keeping track of details. Thanks to her experience as a local bar owner, she also acts as our in-house therapist – we can talk to her about anything. She graduated from the Culinary Institute of America, and we love when she shares her famous buffalo chicken dip with us. In here free time, she now loves traveling to Hawaii. Ellen owns her own pet sitting business called Home Heart Pet Care. She finds the work that she does with animals extremely rewarding and enjoys helping sick pets feel better. She is the proud owner of Earl, her beloved Doberman/Chocolate Lab mix.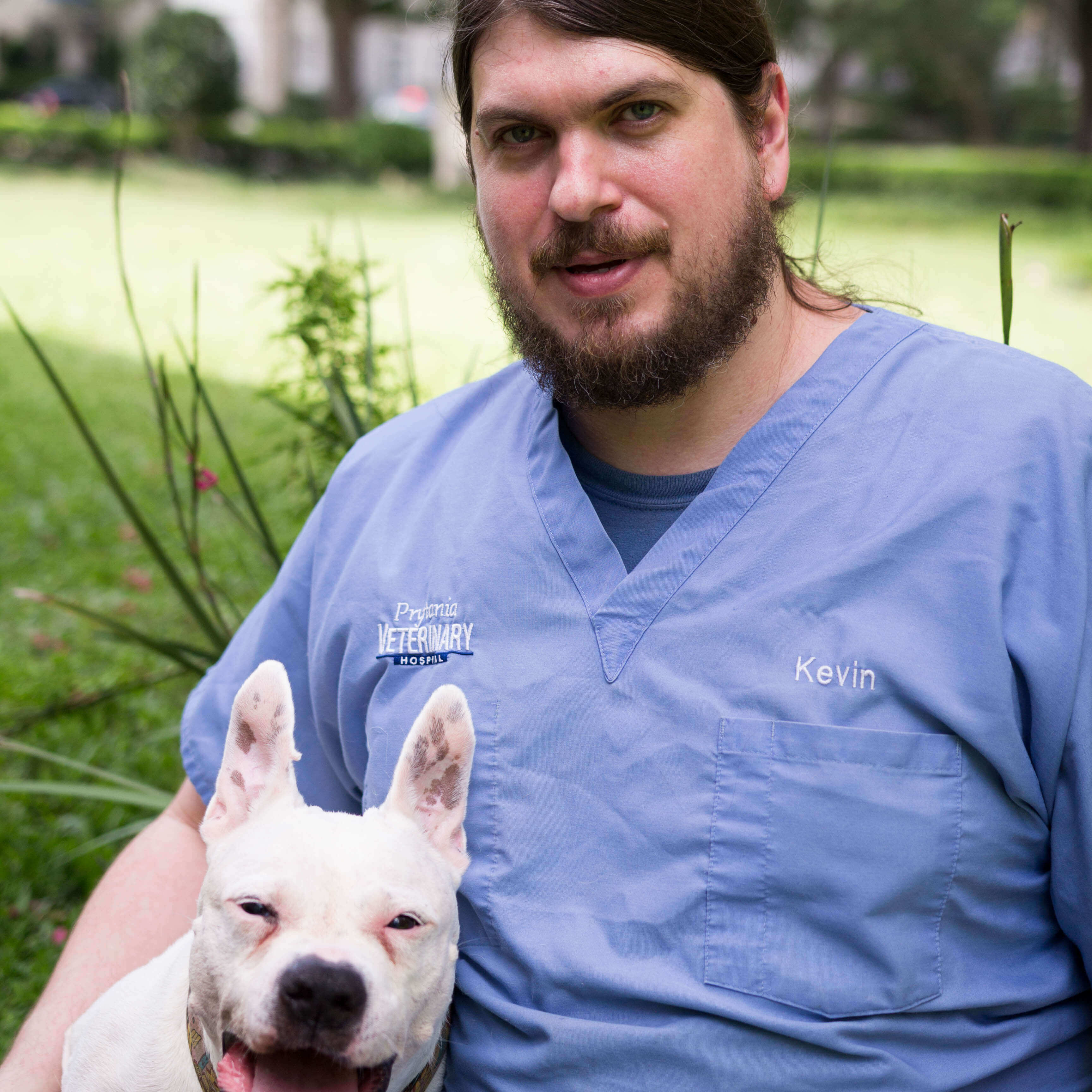 Kevin
Treatment/ ICU Nurse – Since 2006
Kevin worked at Prytania Vet from 2006 to 2010 then rejoined us in 2012 where his years of experience and calm demeanor are an asset for pets going through hospitalization or emergencies. He is also an ICU technician in the ER at a local veterinary referral hospital. Kevin enjoys the challenges of emergency work and the technical skills involved such as IV catheter placement, venipuncture, and radiology. He is also one of our on-site computer technicians. Kevin is a Renaissance Man who loves music, video games, and literature. He holds a Masters of Fine Arts degree in writing from UNO and is currently working on a novel. He has a black lab named Odin, a trouble-making kitty named Ryu, and a deaf pit bull rescue from Katrina named Kali.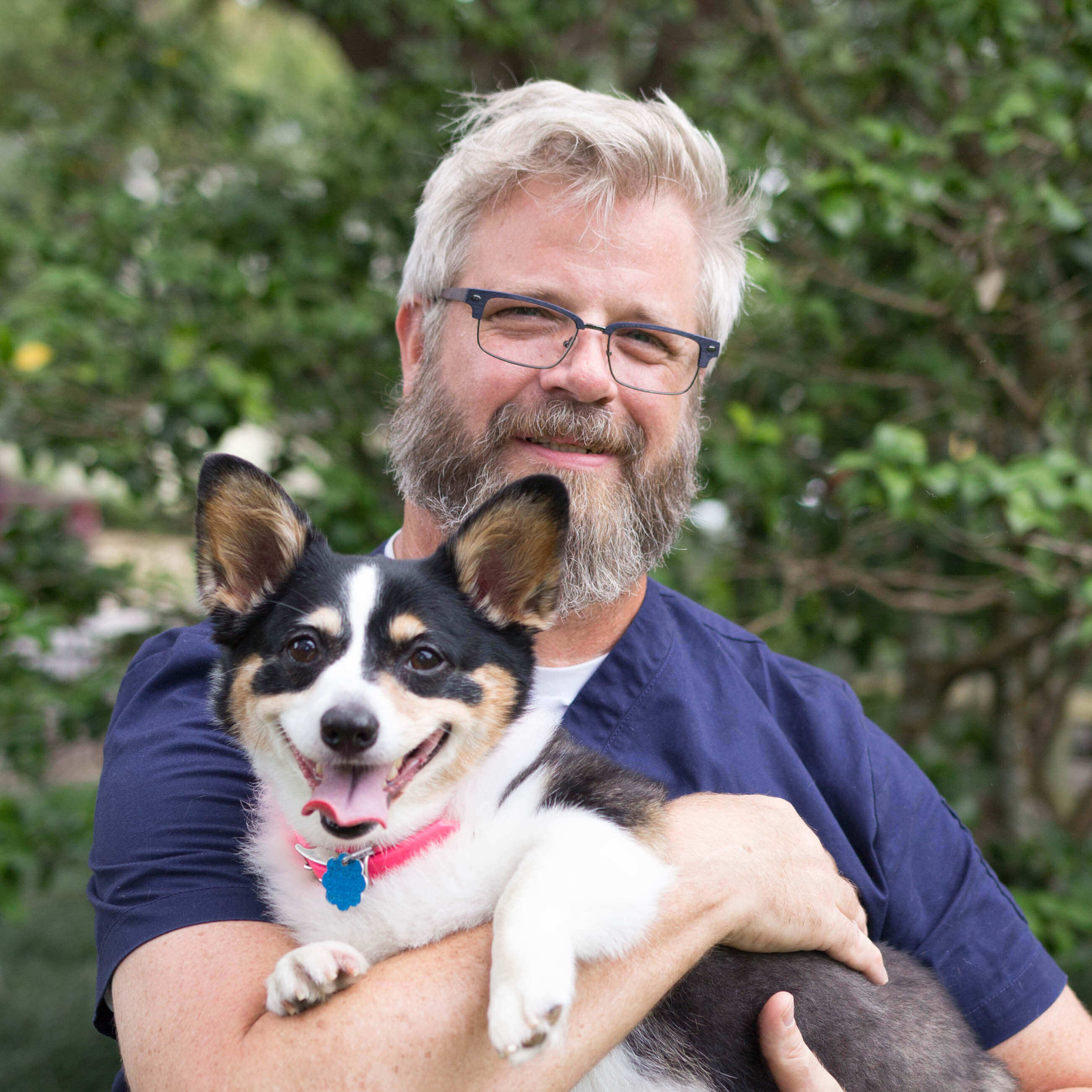 Wirth
Treatment/ ICU Nurse – Since 2007
Wirth has excellent humor and is well respected by the staff and clients for his knowledge, competence, but most of all, compassion. Wirth has an amazing eye for detail and knows when a pet isn't feeling well or is showing subtle symptoms. His introduction into veterinary medicine started in Georgia in 2001 while working with both small animal and exotics. He enjoys diversity and finds the daily challenges of vet hospital life rewarding. Wirth is a "jack of all trades" and performs to high standards in all areas of our hospital, from computer IT work to client relations. Wirth is currently pursuing a degree in diagnostic imaging. He enjoys photography, graphic arts, and working with computers. His photography exhibits in a couple of locations uptown and is credited with most of the work on our website. Wirth has two cats – Fubar and Sterling.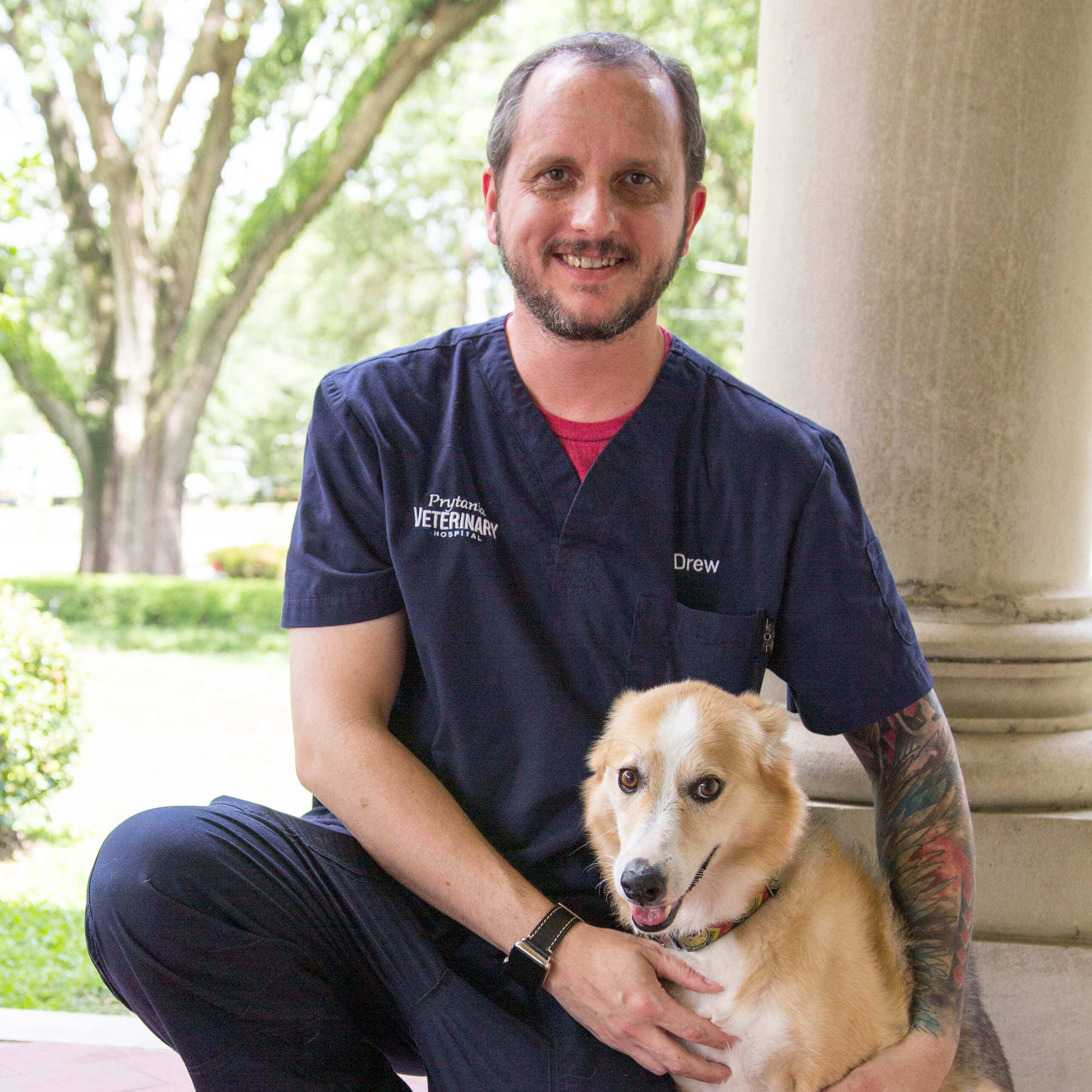 Drew
Treatment/ ICU Nurse / Veterinary Nurse – Since 2010
Drew moved to New Orleans and joined Prytania Vet after visiting his twin brother during Mardi Gras. Drew is a Treatment/ ICU nurse as well as a veterinary nurse. He was born in Hammond and moved to Birmingham, Alabama shortly thereafter. Drew enjoys working to keep animals healthy and safe, and the pets are always comforted by his sweet, southern accent. He is also known for providing plenty of snacks for his co-workers and patients. During football season, you can spot him here sporting his red Alabama Crimson Tide scrubs – he only gets away with it because the animals love him so much and he has a pair of Saints scrubs too. He also enjoys going to the movies, concerts, and Jazz Fest. He spent 3 months in 2015 traveling around the world making all of us jealous with his breathtaking photos. He has a beautiful shepherd mix named Chalupa and a black cat named Luna. Roll Tide & Who Dat!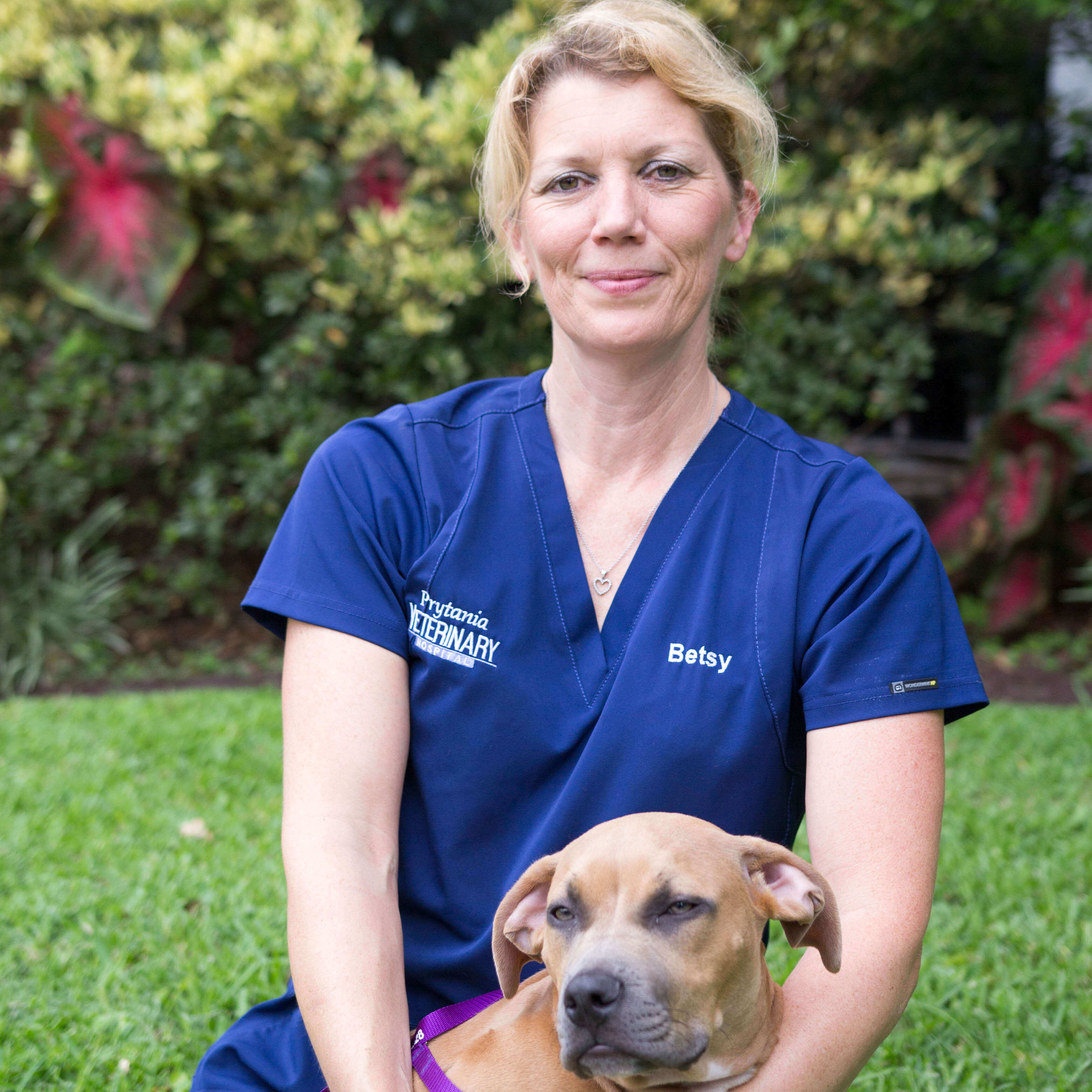 Betsy
Groomer and Kennel Assistant – Since 2001
Betsy Collins is our groomer extraordinaire! She does most of our bathing as well as shavedowns. She had 10 years of veterinary experience prior to joining our team. She spends most of her time in the kennel, and loves getting to know all of the pets that come to stay with us. Clients will often meet her when their pets come in for boarding – she gets them settled in their home away from home. She is a great cook, and always cooks the turkey for our Thanksgiving pot luck. Betsy likes to spend time with her family, particularly her three children, Courtney, Randall, and Brittany, and her grandchildren, Serenity and Caden. Serenity is responsible for naming their black and white cat Oreo Ice Cream. Betsy is an avid football fan and cheers for the Saints and LSU. In her spare time, you can find her outdoors at barbecues, crawfish boils, or any of the many outdoor festivals here in south Louisiana.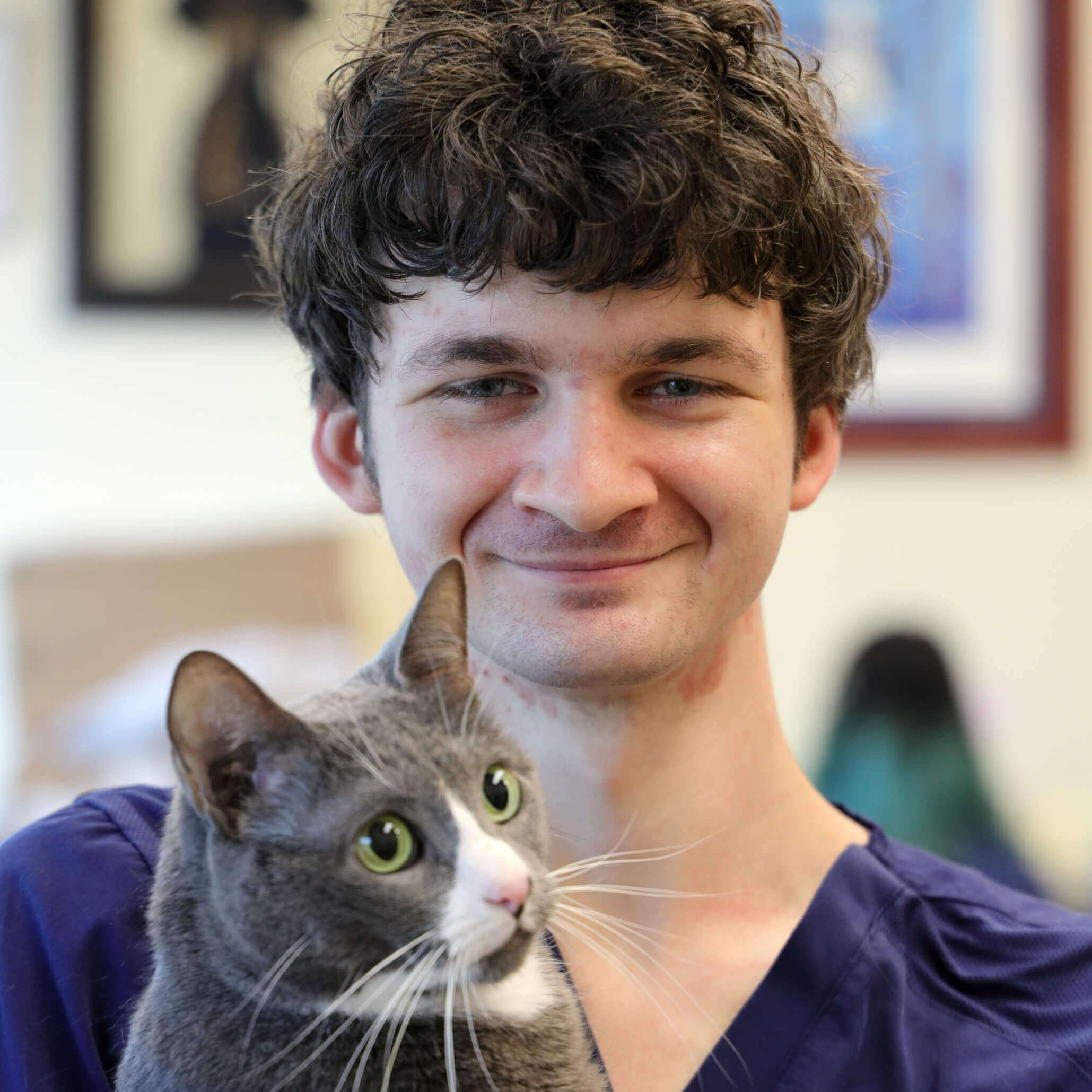 Bradford
Kennel Technician – Since 2019
Bradford is a New Orleans native. He went to Eckerd College and graduated with a bachelor's degree in computer science. He volunteered at Children's Hospital for several years. Bradford thinks the people and the pets at Prytania Veterinary Hospital are fantastic to work with. He has a special ability to put anxious kitties at ease. He has a gray cat named Mahler after the composer. In his free time, he enjoys reading and game design.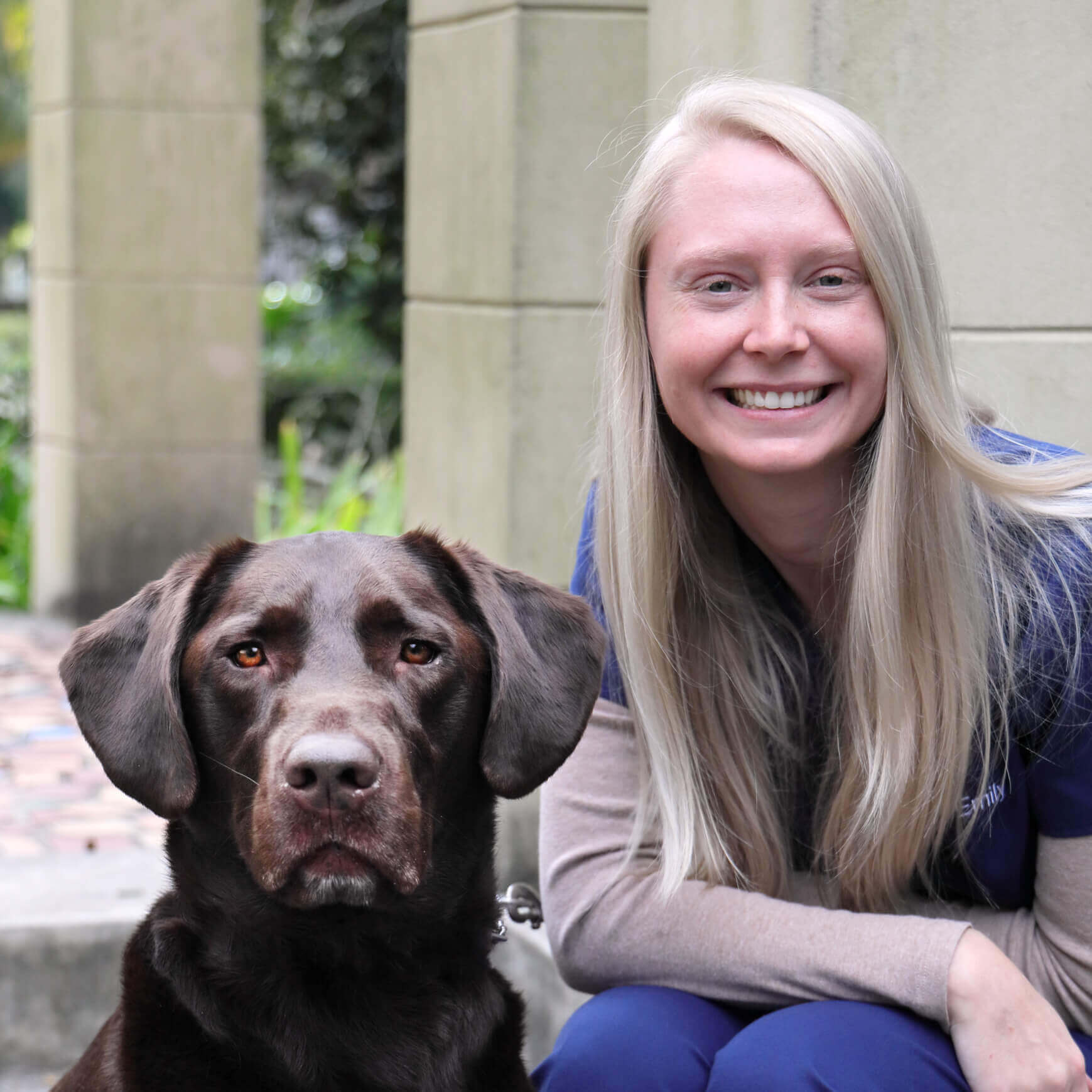 Emily
Client Care Specialist – Since 2020
Emily has worked in customer service for about 10 years as of the end of 2020. She loves working with people and has loved animals as long as she can remember. She moved here from Pennsylvania and loves the South. She plans to return to school in the spring of 2021 to focus on psychology. Emily loves working at Prytania Vet and being surrounded by incredible doctors, technicians and support staff. Emily thinks everyone makes a great team and she feels lucky to be a part of it. She feels like she has learned a lot working at Prytania Vet. Emily grew up with three cats, but currently has two dogs. Beau, her 6 year old chocolate lab, moved here with her and she also has a Chow Chow mix named Morticia that she adopted from Take Paws Rescue. When not spending her free time with her family and dogs, Emily loves spending time outdoors, hiking, walking around the city and visiting different parks. She enjoys exploring new places.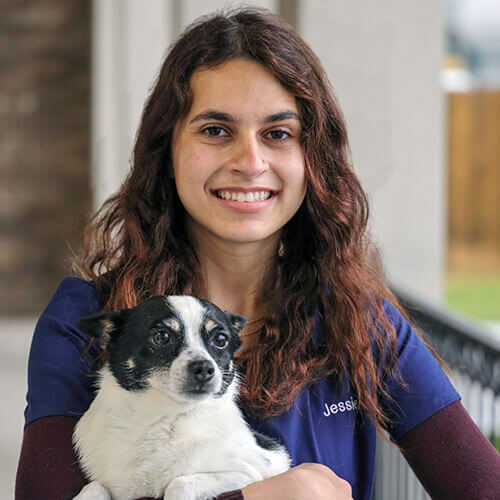 Jessie
Kennel Technician – Since 2020
Jessie currently attends Tulane University to get a degree in ecology and evolutionary biology. After undergrad, she plans to go to vet school. She is from Boulder, Colorado, and in her spare time you can find her skiing, cooking, and singing with her acapella group. Jessie has a crazy havanese-poodle mix back home in Colorado named Bandit, and she hopes to get her own dog here someday. She loves every single pet that she meets at work here, and has a special place in her heart for dogs with clever and unique names (she even keeps a list of them)!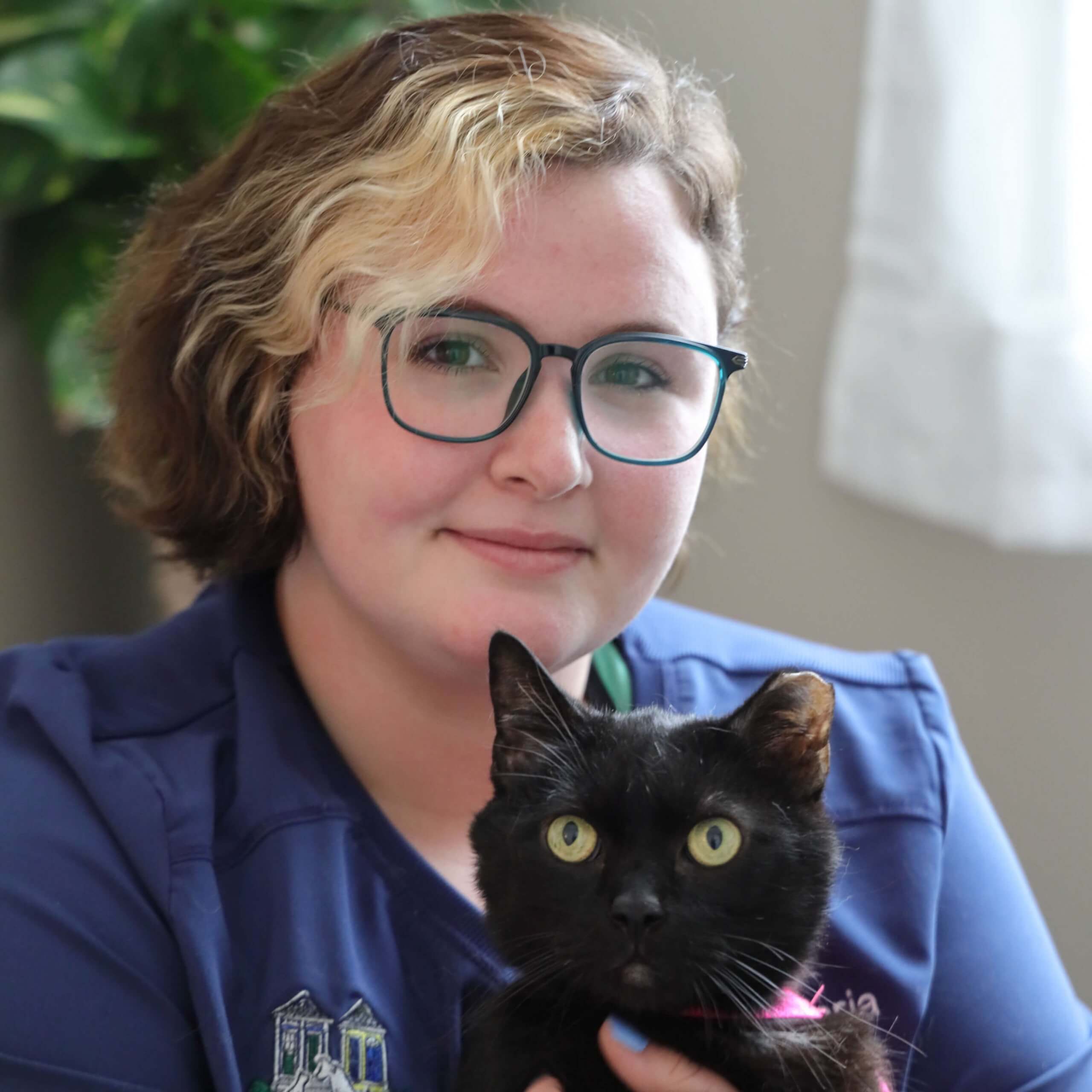 Victoria
Veterinary Nurse — Since 2021
Victoria was born and raised in New Orleans and graduated from the University of New Orleans with a BA in music performance. She loves animals and enjoys getting to see all of the technical and medical things going on behind the scenes. Victoria appreciates the positive atmosphere at Prytania Vet and thinks everyone is nice and supportive. She also likes doing her part to help both pets and owners feel better and more at ease. She loves reading, any kind of arts and crafts, painting, drawing, and recently took up crocheting. Victoria also played the flute and various instruments for a long time. After hand surgery, she stopped playing in groups and now just plays for fun with her little cousins.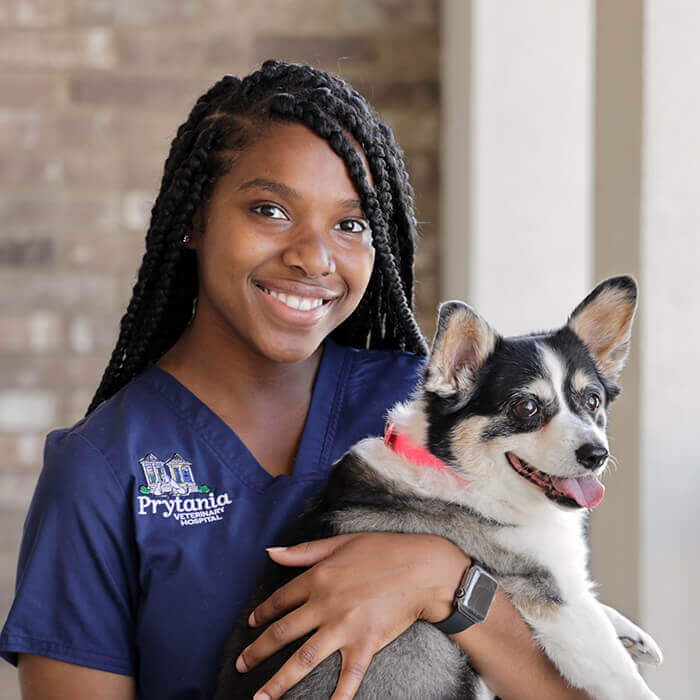 Domonique
Kennel Technician – Since 2021
Domonique was born and raised in New Orleans. She is currently a student at Tuskegee University in Tuskegee, Alabama, where she is studying animal science. She plans to attend vet school and wants to get a degree in exotic zoo medicine and conservation. Domonique enjoys taking pictures, writing and traveling. She has a mixed breed dog named Fancy. She loves working at Prytania Vet and really enjoys puppy play time, when we let boarding puppies romp around in our play yard. Madie
Client Care Specialist – Since 2021
Madie is a Client Care Specialist who loves bringing a little bit of unexpected joy to people's day and, of course, petting every dog that walks through the door. Originally from Nebraska, she graduated from Loyola University New Orleans where she studied mass communication and graphic design. Though she has worked as a graphic designer for seven years, she is thrilled to add veterinary medicine to her arsenal as animals have always been a true passion of hers. Off the clock, you can find her playing with her puppy, Bunz, antiquing and eating ice cream. Virginia
Kennel Technician – Since 2021
Before working at Prytania Vet, Virginia traveled around the country doing seasonal work in Colorado, Montana and many other beautiful places. She returned to Louisiana to pursue a career in animal healthcare. She lives here with her sweet senior cats, Pazu and Claudia. Since working at PVH, she has learned the ins and outs of the veterinary field and has confirmed her love for it. Spending all her time with animals and other people that share her passion makes her happy. When not working with animals, Virginia enjoys making art, hiking and caring for all of her plants.